Robinson Playground Park
Cute park with two playscapes on your way to Rattan Creek Park.
Robinson Playground Park is a smaller park with many trees. The larger playscape is not shaded, but the smaller one, as well as the majority of the benches and tables, are.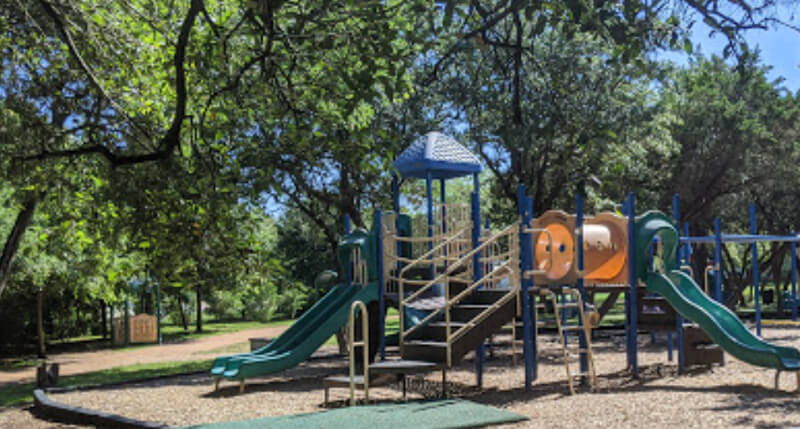 The North Austin MUD No.1 operates two wonderful parks in the northwest Austin Milwood neighborhood: Robinson and Rattan Creek. The parks are connected by a network of walking trails. Robinson Playground Park is the smaller of the two, and it is, as the name suggests, a playground park.
The park appears to be undergoing landscaping reconstruction at the moment, but this does not affect the actual playscape area, only the surrounding lawn. We brought our kids here to play in the hopes of exhausting them before bedtime. This is, in my opinion, one of the best parks for young children. Most playgrounds with commercial Little Tikes equipment do not have a small clubhouse (with hinged door) beneath the slide. This one has a small clubhouse, which my children thought was the best part of Robinson Park. I would have thought they'd enjoy the three large dinosaur climbing statues (similar to the ones at Round Rock's Old Settler's Park).
No, they spent a good half hour just going in and out of that little space. I would highly recommend this park for children aged three and under because the playscape is safe and small enough for the youngest playground visitors.
A larger playscape with "big kid" swings and a tire swing is located next to the small playscape. My kids never ran over that way, but they did enjoy the long "see saw." We'd never seen this playground piece before, so the kids enjoyed the novelty.
What I liked best about the park is that it is small, making it easy to keep an eye on the kids, and that it is easily accessible from Anderson Mill but not so close that traffic becomes an issue. The volleyball court and soccer fields are separated from the playground by a fence. Robinson Park is immaculately kept, and there are clean restrooms.
Robinson Playground Park, in my opinion, would be an ideal location for play groups to gather. There is no shade, but there are picnic tables close to the playground. There is no parking lot, but street parking is plentiful. The two nearby parks (Rattan Creek and Springwoods Park) are much more crowded, so if you have young children, I'd recommend Robinson Playground Park.
Robinson Playground Park
Amasia Dr and Humphrey Dr
Austin, TX 78729