El Salido Park has a community center, tennis courts, a swimming pool, a playground, and a jogging trail. It is about 15 – 20 minutes from the Four Points Area and is located near 620 and Anderson Mill (depending on the 620 traffic).
Hooray for beautiful park weather! After the suffocating summer heat, the kids and I are back at the parks, enjoying them before the cedar pollen ruins the fun in a few months.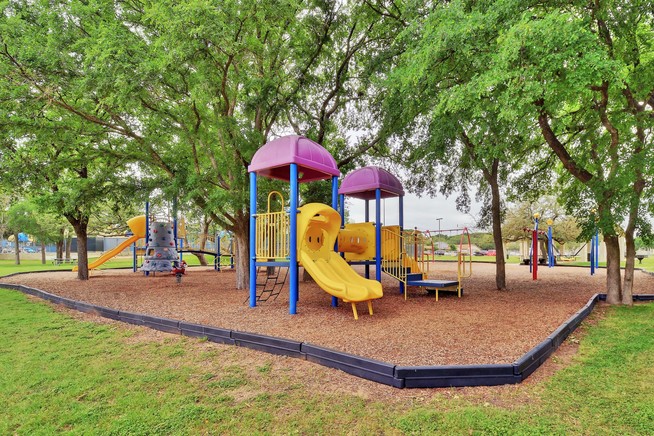 We recently visited El Salido Park in northwest Austin, which is part of the Anderson Mill Limited District. Every time we pass by this park on our way to swim lessons, the kids beg me to take them to the swimming pool, which has a separate kiddie splash area from the lap pool. Though the facilities are primarily intended for district residents, non-residents may pay additional fees for day use. In addition to the pool, there's a fitness center where non-residents can pay $30 per month for family use.
BBQ Grill
Pavilion
Trail
Picnic tables
Playscapes
Sand Volleyball
Tennis Courts
This playground is a favorite of my children. It doesn't seem to matter what time of day we visit, but the park is never overcrowded. It is always immaculately kept. My little one enjoys watching the "big kids" walk their school playground track while he plays at the park, which is adjacent to an elementary school.
On the playground, there are two playscapes, one for toddlers and one for older children. The playscapes have lovely shady trees above them. The large bench swing and the thing that rotates while they hang onto the circular bar are favorites of the kids.
A large pavilion with picnic tables adjacent to the playground can be rented for parties ($25/hour for non-residents). Private parties can also be held at the pool and community centers. This park is definitely on my list of parks to host a park party.
The park is just the right size, and it's relatively easy to keep track of the kids who play here because the playground is sandwiched between all the other amenities. There is plenty of parking. Despite its proximity to El Salido, the park has the feel of a neighborhood park because it backs up to several residential homes.
El Salido Park
11500 El Salido Parkway
Austin, Texas 78750