Gilleland Creek Pool and Park
Seasonal, junior Olympic-size outdoor pool with a picnic area and a lit pavilion.
My daughter and I were driving out to Pflugerville, and we passed by Gilleland Creek Park. This is one of the few Pville parks that I have not visited, having been to most to collect specimens for labs when I taught biology in PISD, so out of curiosity, we stopped. We could see a pool from the road so I figured if there is a public pool, there's usually a playground.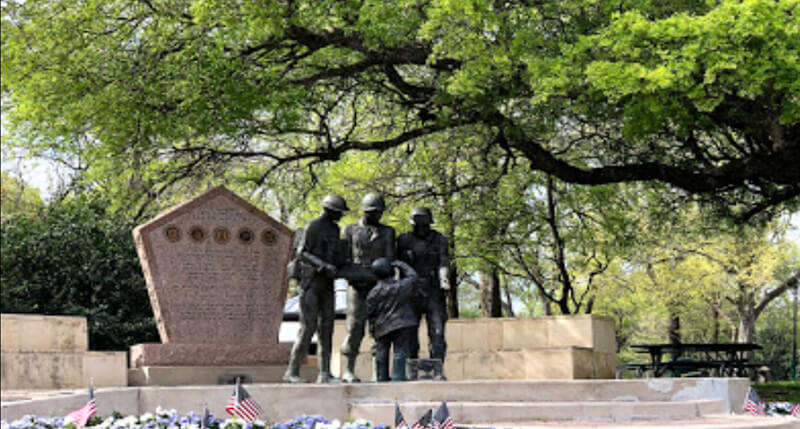 Personal events such as birthday parties, baby showers, and graduation celebrations can be held at the Gilleland Creek Pavilion. Visit the Gilleland Creek Pavilion rental facility page for more information, to view the facility calendar, or to make an online reservation.
Gilleland Creek Pool
a pavilion (open for rentals)
access to Gilleland Creek Trail
BBQ pits
an outdoor exercise area
Gilleland Creek Pool
Gilleland Creek Pool is an outdoor, heated pool that is open all year. In the evenings, the pool has several lanes open for lap swimming, and it is also a popular location for swim lessons and swim teams.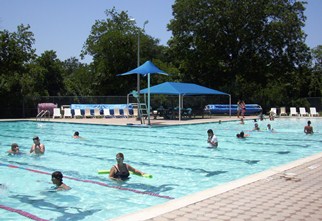 Gilleland Creek Pool is a junior Olympic pool that is opened to the public. In the evenings, they have adult swim times and swim lessons. The pool doesn't open until 1 pm, but I would imagine that when the pool is opened for public swim, parking would be more difficult. Note to the Public: Limited space, shared lanes.
The community pool is in the city's main park, which serves as the hub of a citywide trail system. Picnic areas are located adjacent to the pool, which is open daily during the summer. Swimming and aquatics lessons are available through the city's PARD.
Gilleland Creek Trail
The Gilleland Creek Trail, Pflugerville's longest walking path, runs from Grand Avenue Parkway to the city's eastern outskirts.
Time permitting, I would have loved to walk down the hike and bike trail to get over to Pfluger Park. The Gilleland trail runs along the creek and connects to the Pfluger Park trail. City of Pflugerville's website says that this park has three fishing spots which we didn't see in our quick stop in at the park, but I would love to make a trip back here to check that out. I think my kids would get a kick out of fishing.
The trail begins by following the creek's wooded banks, weaving in and out of the trees. Bohls Park has a small trail parking lot across Immanuel Road. The Heritage Trail loop includes the segment of trail up to Railroad Avenue. The loop trail continues north at Railraod Avenue, while the Gilleland Creek Trail continues west, passing the Gilleland Creek Pool and then winding through a series of community open spaces, including Pfluger Park, Kuemple Park, Pfenning Park, and Swenson Park. Small loops and trail spurs extend into the outlying areas, inviting residents to walk, run, bike, walk their dogs, and enjoy the outdoors on the trail.
Is the park worth a long drive? I think so. The park felt very serene, and though Pflugerville is far from being country these days, the park still has that "out of the city" feel.
Gilleland Creek Park can be found at 700 North Railroad Avenue in Pflugerville, Texas 78660. In addition to this park, Pflugerville has five other parks listed. In addition, three attractions in other categories are listed in this city. The exact location of Gilleland Creek Park can be found on the map above.
Gilleland Creek Pool and Park
700 Railroad
Pflugerville, TX 78660