Brentwood Neighborhood Park
Community Park with play areas & a pool.
Brentwood Park has plenty in 9 acres right next to the Brentwood Elementary School. There's a few play areas for the kite, kickball, or other parties, swings, a basketball field, a volleyball court and a large field.
The park is pretty, but the jog is fun mostly for 'house shopping.' There are some really fun and unique homes along the suggested route. Ever wanted to see a camouflage home? You will on this route–plastic baby fetus in the front and all.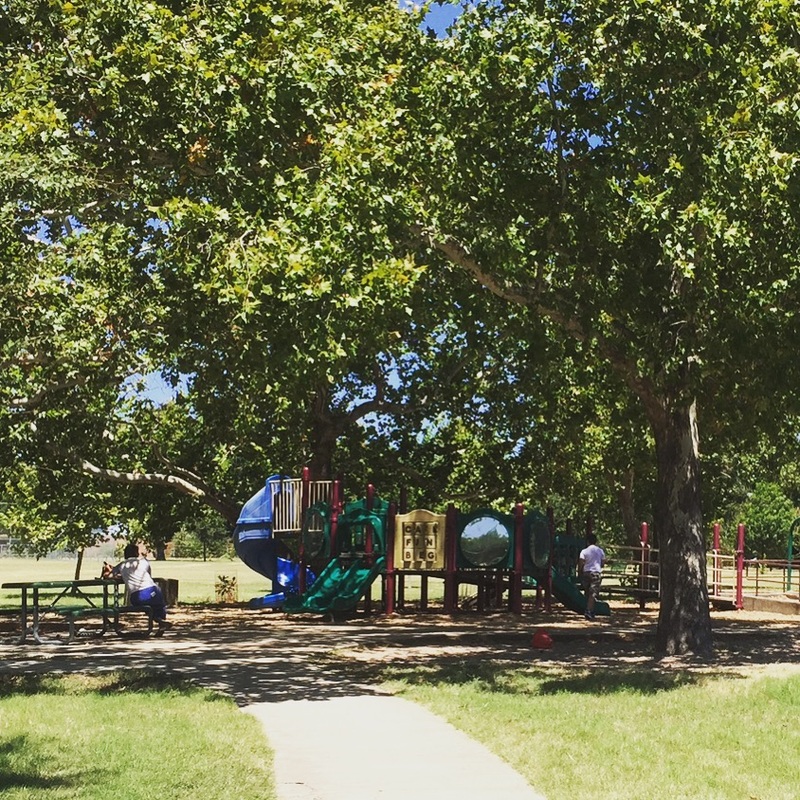 Brentwood Park is awesome for parents with little kids who insist on playing where the older kids play. Rarely can hubby and I just stand back and watch our daredevil 2 year old at playgrounds without having to spot him in case he takes a flying leap off the top of playscapes. The playscape at Brentwood Park is toddler-proof. The ramp access is a gentle incline, and the entire thing is pretty much enclosed. The whole playscape is lower to the ground than most others parks and has pea gravel underneath. It was a relaxing park trip.
We came here a couple of weekends ago, and as it was a gorgeous day outside, there were many families at the park. There is not much shade right now, but the leaves are just filling in so by summer time, with these mature trees overhead, it should help.
Brentwood Park is older. It's not like the parks in suburbia where the lawns are neatly trimmed up against the sidewalk. For some who live and breathe suburbia, Brentwood Park might feel a little worn even though the park itself is well maintained, and that's part of its charm. This is a wonderful part of Austin, safe and family friendly neighborhoods, and right next to the park is an elementary school.
The public pool gets a lot of traffic in the summer. The park also has tennis courts, basketball courts, and a large multipurpose field. There is also an exercise area which I have not seen at a park since I was kid. Talk about old school! There are a few picnic tables and park benches. The restrooms are located near the pool, but if you do need to go do your business, bring a door monitor with you. The restroom doors don't lock.
Jogging Distance
3.12 miles (can be made longer or shorter by deleting or extending your route). There is also a dirt trail surrounding Brentwood Park, but it's only half a mile.
Dog Friendly?
For running: Sure thing.
Playground, Yes!
Swimming? No.
Playscape Features
Sandpit
Bucket swings for wee ones
picnic tables
4 slides
Alphabet board
Mirrors
Ramps
Large fields for sports
Pool Features
Large main pool starting at 3.5 feet and as deep as 4 ft 7 inches
Circular kiddie pool with fountain in the center – approximately 1 foot deep
Large wooden deck near the kiddie pool
Several benches for belongings
Decent shade around both pools
Lifeguards on duty
Bathrooms
Bathrooms are adjacent to the pool and pretty decent.  No automatic flushers which is surprisingly a plus because then you're not forced to calm down a startled infant or toddler.
Extras
Parking is street-side only, so make sure you pay attention to signage.
Brentwood Park
6710 Arroyo Seco
Austin, TX 78757