We've got the perfect method for you to cool off in the Texas heat. Dip your toes in the Cypress Falls swimming hole in Wimberley. Fead on to find out all you need to know about spending a day at this exciting swimming hole.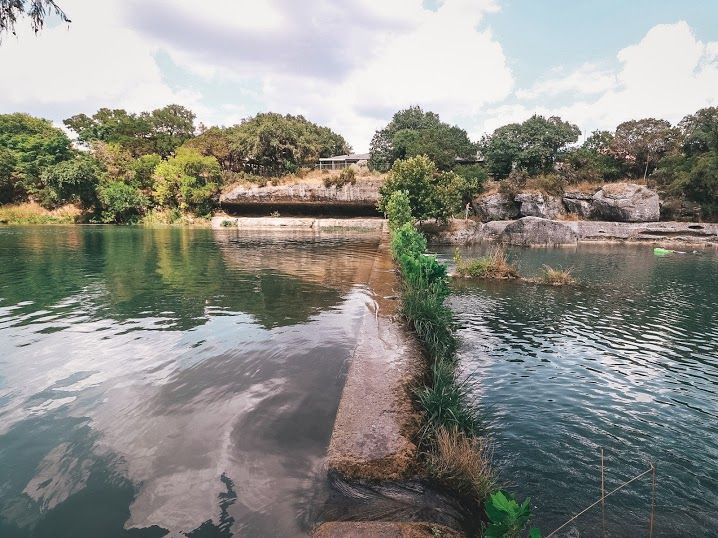 Unlike Jacob's Well and other swimming holes in the Texas Hil Country, Cypress Falls is more than just a swimming hole. There is also a cafe with snacks and an 18-hole golf course. "Eagle Rock," a famous limestone rock formation, is also located at Cypress Falls. The structure was formed organically as the water chiseled it out over time.
A dam on Cypress Creek produced this natural swimming hole. The dam has resulted in the formation of a tiny waterfall, thus the name Cypress Falls. Summer temperatures in Texas' hill region may reach 100 degrees Fahrenheit, yet Cypress Falls is spring fed, thus the water temperature remains mild. The stream is really supplied by the subterranean spring of Jacob's Well, so anticipate pure water and little temperature variation throughout the year.
Not Too Busy
There is plenty of room to spread out at Cypress Falls Swimming Hole. We went on a Wednesday morning, so there were just a few families there, but there was enough room to stretch out and pick your own quiet area to float or sunbathe.
Great Location, Location
Between shopping and dining, take a dip in Cypress Creek. We adore Wimberley, and this swimming hole is secluded away from the tourists while yet being near enough to town to do some shopping and have some delights after your swim. Plus, if you still have your swimsuits on, you can cool down in Cypress Creek, which is located right beyond the downtown stores.
Shallow Areas for Toddlers
Because of the modest entrance point and many yards of shallow water near the coastline, Cypress Falls is a little safer than other swimming places for little children and novice swimmers. It's also gentle on the feet… no jagged pebbles or stones at the bottom! It's largely made of sand.
Awesome Water Temperature
I've gone to a lot of swimming holes in our neck of the woods with temperatures that startle me right into winter. That's too much for this mother! I like bath water temperatures, but the chilly yet soothing spring-fed waters at Cypress Falls are ideal for the entire family.
Go fishin'
Goat Island is located in the Cypress Falls Swimming Hole in Wimberley, Texas.
Yes, you read that correctly. You may swim or paddle all the way up to the goat island to observe the amusing creatures. Bring your fishing gear and cast a line among the shade trees.
A Cave with Waterfalls
Eagle Rock, a natural limestone rock structure, overlooks the swimming hole and offers amazing photo possibilities, natural diving boards, and the opportunity to explore a little. Furthermore, because the swimming hole is a dam in Cypress Creek, there are little waterfalls all around, hence the name "Cypress Falls."
Paddle boards, canoes, kayaks, and tubes for rent.
You may hire water sports equipment by the hour for an extra cost, but you are also welcome to bring your own. There are two tiny air pumps accessible for public use. We brought our own tubes and had them inflated there. When we got weary of the tubes, we hired a paddle board for $10. My kids had a great time!
All-Day Pass for Less Than $10
A wristband with entrance and out privileges costs $8 for the entire day. ($6 for children and $2 for residents) Arrive early (it opens at 9 a.m.) to acquire a prized picnic table or a pair of wooden chairs. Alternatively, bring your own chairs or a blanket.
Spend the entire day at Cypress Falls Swimming Hole.
When COVID limitations are relaxed, there will be a tasty taco shack on-site with a full bar. There is no need to leave the property for the entire day. (At the moment, Eagle Rock Draft House sells beer and wine to go.)
Are you ready to see Cypress Falls?
Cypress Falls Event Center and Lodge
50 Marina Circle, Wimberley, TX 78676